Apart from ensuring you meet the terms of your Microsoft 365 licence plan, understanding your overall mailbox sizes – as well as the size of any archives you want to migrate – can help you when migrating to Office 365 by:
ensuring the optimum end user experience,
minimising network impact, and
getting a handle on just how long it's going to take you to complete your migration – something we are always asked to help estimate
The amount you have to move, where it resides at present, and where you want to put it as you move it into Office 365, can also shape your migration strategy.
Apologies in advance, as this has turned into a longer article than we originally intended – but it's a big subject! 
Dealing with Large Mailboxes when Moving to Office 365
The first thing you'll probably want to do is pinpoint larger mailboxes.  Apart from taking a long time to get moved across, if you have any mailboxes that exceed 100 GB (or more realistically, 90GB) you will need to adopt a different strategy for moving these mailboxes.
Suggesting that users start deleting (or centrally enforcing deletions) to get back under 90GBs is an approach that just won't wash these days…so what are the options?
A common approach taken by our customers is to archive larger mailboxes to bring them down in size.  This can be achieved:
using an existing 3rd-party archive or
using native Exchange archiving.
If you plan to use Exchange archiving, here's a neat script from our colleague Michael Van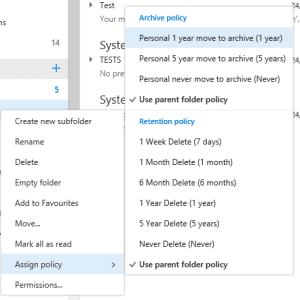 Horenbeeck to help you estimate the impact of a given set of Exchange retention policies on mailbox sizes – e.g. Items over a certain Age Limit.
http://vanhybrid.com/2013/12/30/estimating-the-size-of-an-exchange-online-archive/
See the bottom of this article for tools to help with generating these reports.
Watch out for Large Attachments
You can now migrate messages up to 150MB in size to Office 365, but this means you still need to weed out those odd few messages that are bigger than this prior to migration (otherwise they won't migrate) and establish your game plan for moving them.
Is Microsoft's On-line Archive Really Unlimited?
Over the years Microsoft has shifted its stance on how big archive mailboxes can grow.
According to the current service description, a 100GB limit is initially applied and when a feature called auto-expanding is enabled, additional storage is automatically added, without a mention of an upper limit*.
There are, however, caveats to be aware of, including:
the rate at which archive mailboxes can grow must not exceed more than 1GB a day
archives cannot be used for the purposes of journalling
Microsoft can deny the use of archives to store email belonging to users other than the individual the mailbox is licenced for (although shared mailbox archives are supported, which is a little confusing).
*Microsoft currently uses the term 'unlimited archiving' (previously a 1TB limit was imposed).  This is potentially a huge amount of storage to offer so our advice is to anticipate a limit from Microsoft at some time in the future.  We may see a limit introduced hand-in-hand with the provision of administrative tools for managing storage.
Estimating Your Optimum Office 365 Migration Batch Size
Having a profile of your overall mailbox and archive sizes will help you establish a throughput baseline, build appropriately-sized mailbox batches, and help gauge how long your migration to Office 365 will take 'end-to-end'.
If you're migrating in a hybrid environment, the usual 'modus operandi' is to schedule MRS (or other migration tool you might be using) to run outside of core office hours so you can push through as many mailboxes as possible – as quickly as possible – without incurring the wrath of end users.  Even more critical, if you're migrating using a cutover or staged approach, you'll want to work out if you can meet desired timelines (e.g. over a Bank Holiday weekend).
Watch out though –  it can be  slower during out-of-hours and the weekend, because your are not the only one to have the idea to schedule big moves during these times :-).
If you trawl the Internet you'll get a whole bunch of different Office 365 ingestion rates ranging from 1GB per hour to over a TB a day.  Our best advice is to carry out test migrations in your own environment – with a reasonably large data set – to work out the maximum number and size of mailboxes you can move in a given time-frame.
The more mailboxes you can move in parallel the better, but simply cranking things up doesn't mean faster migrations as you'll find you hit a ceiling..
Even though you may be able to move data into Office 365 at a rate of knots, the fact is you are pretty much powerless over the speed at which Office 365 can ingest what you send it.
Here's a useful article by Steve Goodman to help pinpoint where any bottlenecks might be and determine whether you can do anything about it http://searchexchange.techtarget.com/tip/Simple-ways-to-troubleshoot-slow-mailbox-moves-to-Office-365
Another factor has proven to be the physical location of your site in relation to your target Office 365 service.
Microsoft articles to help you diagnose performance issues depending on your region can be found here:
How an 'Archive First' Approach Can Expedite Your Move to Office 365
If you're migrating in a hybrid environment (and have purchased the relevant plan), you can take advantage of the fact you can provision hosted In-Place Archives ahead of moving primary mailboxes to the cloud.
This offers several benefits, for example
You get to migrate email that is less mission-critical first.  If something goes wrong or if it takes longer than you'd hoped, you haven't impacted primary mailboxes
You can 'crank up' your existing archiving policy to minimise the size (and migration times) of your 'live' primary mailboxes
You can move archived emails separately from primary mailboxes
3rd-party archive migration tools can be faster – for example, our migration service has benchmarked 3x faster (at least) than MRS
A few pointers here:
If you use native Exchange archiving, you'll need to check you have enough temporary space on your Exchange server to 'pre-stage' the archived emails. Customers that have taken this approach have been able to release the space on their Exchange servers for re-use as they move onto the next batch. NB Mailscape reports are available to help you check that white space and storage is maintained within acceptable operating limits.
Note that you could, in theory, create Exchange archive policies that move items direct from on-premises into hosted In-Place Archives, but it's worth comparing the two approaches to see which will work best for you.  I.e.:

Archive on-premises, and then use MRS to move to Office 365 In-Place Archives
Migrate from primary mailboxes direct to Office 365 In-Place Archives
Michael Van Horenbeeck prefers to create on-premises archives first and then move them later using MRS.  This is because of how Outlook interacts with the archive and the effect the initial 'seeding' of the archive has.  His script (referred to earlier) will help you determine the amount of data that will need to pass through your internet connection which ever route you take.
Using 3rd-party Tools to Speed Up Your Move to Office 365
We've already spoken about using 3rd-party migration tools to move the contents of 3rd-party archives, but the concept of using tools to help moving primary Exchange mailboxes is a well-trodden path.
Tools are available from BinaryTree, Priasoft, BitTitan, Dell (Quest) and more.  Apart from typically being faster than using Microsoft tools*, useful things to look out for that will help with your migration (particularly when you have large mailboxes to handle) include:
The ability to populate online Primary mailboxes with say, the first 3 months' of emails (to get users on-boarded REALLY quickly) and then gradually 'backfill' the remaining email over time.
The ability to migrate selected items from the Primary mailbox to the Office 365 Primary OR In-Place Archive depending on policies.  E.g.:

Move everything < 2 years to the online Primary mailbox
Move everything > 2 years to the online In-Place archive

The ability to correctly handle any legacy archive shortcuts as they get encountered during the migration.  We recently encountered a widely-used 3rd-party solution that simply migrated shortcuts into Office 365 and actually 'broke' them in the process, making it impossible to identify and manage them 'post-migration'.    
*Generally speaking, an approach that uses the EWS protocol to talk to Office 365 (which many 3rd-party migration tools use) as opposed to MAPI (which MRS uses) is faster.  This is  largely owing to the fact that the ability to use impersonation enables you to move more mailboxes concurrently.
Watch out for 'Archive Expansion'
If you're migrating items that are currently stored in a 3rd-party archive, bear in mind that you'll have an expansion factor.
100GB of archived data could equate to 10 times this amount in Office 365, as you are:
re-hydrating the original item as it gets moved into to Office 365
losing the effects of single-instance-storage and compression that you got with archiving
Contact Essential if you'd like assistance in estimating what your archived data might equate to as you migrate to Office 365.
Beware Large Mailboxes & OST Sync Post-Migration
If you think that 50GB is plenty of space (and as a result, you elect not to purchase a plan that includes In-Place Archives), bear in mind this 'gotcha':
Even though primary mailbox sizes in Office 365 are generous, if you plan to use 'full Outlook' (desktop) clients with the ability to access emails when working offline (i.e. using OST files), you could encounter problems.  This is because having overly large online mailboxes to synchronise onto local systems will create a huge network overhead during the migration process.
If you use Outlook client 2013 or above there's a slider to control how much gets synchronised, but older versions of Outlook may struggle to provide a performant synchronisation service and could literally kill your network as mailboxes get switched over to Office 365.
Conclusion: There's More Than One Way to 'Skin the Migration Cat'
Depending on your overall migration strategy (e.g. cut-over, staged, hybrid) and what you have to migrate, which could include large mailboxes, archives, public folders, leavers' mailboxes and journal mailboxes (these are a whole different subject which we'll cover in later articles), your migration could be managed in a number of different ways to mitigate risk and ensure minimal downtime for end users.
There's no 'one size fits all'.
Essential has supported customer migrations that have used a variety of techniques to meet technical and business needs.  
We are also flexible in our approach, and happy to help your own IT team oversee the migration, or work alongside a chosen on-boarding partner to address the trickier bits, like migrating 3rd-party archives and distributed PSTs.
Essential has supported customer migrations that have used a variety of techniques to meet technical and business needs.  
Call today to talk about your plans and concerns and what we can do to help.