Part of the UK's leading provider of business process management and outsourcing solutions, Capita provides IT and business services to over 3,800 customers across public and private sectors.
For its internal mail system, Capita had been using HP Autonomy EAS (formerly ZANTAZ EAS) both to provide evidential email retention and to extend mailbox storage limits in Microsoft Exchange.
With only 500 megabytes of mailbox space per user, EAS was absolutely crucial, effectively extending storage limits to gigabytes by replacing emails with much smaller shortcuts.
Explained Ian Gates, Director of Internal IT at Capita,
"As part of our strategy to modernise our own communication and collaboration capabilities we elected to switch to Office 365. As Office 365 offered us virtually limitless archive storage, maintaining our EAS archive on-premises seemed non-sensical."
Having worked together on many previous customer projects, Capita approached messaging experts Essential Computing, to assist with the migration of their legacy archives into the cloud. With over 25TB of data and an initial 13,000 mailboxes to move on a tight schedule, speed would be a vital factor, as well as, they discovered, being able to cope with complexity
High Speed Upload
The project included an extensive proof of concept which focused on maximising upload rates to the cloud. This aspect was challenging given that bulk imports into Office 365 can be subject to Microsoft throttling, network speeds and many other environmental factors.
Essential configured a multi-threaded environment such that throughput rates were in line with those of Capita's live mailbox migrations. This meant that the two constituent parts of the overall email migration – migration of the primary Exchange mailbox and migration of the corresponding archive – were synchronous, and one would not delay progress of the other.
Coping with Complexity
Another challenge in the migration was matching users' existing archives to their new destination. This became tricky when a user possessed more than one archived mailbox in EAS, a scenario that could occur when an employee moved location, changed their name, or became a permanent member of staff (having previously worked as a contractor).
Essential was able to develop custom scripts for Capita's specific requirements which solved the problem of matching users' various sources with their new destination in the cloud.
A Flexible Project Approach
Continued Gates,
"Our overall experience of working with Essential was extremely positive. Their approach was to empower our own staff to get hands-on with the project wherever they could, this included organising web sessions with our migrations team in India. The product had enough flexibility to handle our specific requirements and get us the speeds we were looking for in terms of throughput to Office 365. I would not hesitate in recommending this software, and indeed, Essential, as a service delivery partner, to anyone asked."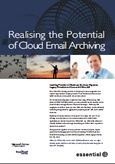 Migrate from Autonomy Zantaz EAS to Office 365
Discover how we can help you migrate your email archives from Autonomy Zantaz EAS to Office 365 and enquire about your migration project.