About
Meeting Room Booking System
In today's business environment, maximising available workspace, streamlining the process of booking and provisioning services such as cleaning, visitor management and parking, whilst avoiding waste, is essential.
Whether you need to schedule meeting rooms and resources (catering, seating layouts, AV and VC equipment etc) in advance, or book a room on-the-spot, our solution delivers ease-of-use and clear utilisation visibility to take your estate optimisation to the next level through the use of room scheduling software.
Easily locate the perfect meeting room
Quickly and easily locate the best meeting room for your needs: filter according to location, size, accessibility, seating layouts (e.g. classroom, theatre), AV facilities and so on. Photos and maps can be added to further ease the selection process.
Speed up the booking process
Request any additional resources and services such as catering, visitor passes and parking in just a few minutes – all from within Outlook – saving time for organisers and facilities staff alike.
Eliminate waste
By defining a check-in time-window (e.g.10 minutes after start time), you can release rooms for use by other staff in the event of a no-show. You can also send reminders and make it easy to update catering numbers.
Create a professional image
Our range of digital signage options, tailorable designs and contactless interfaces deliver a great workspace booking experience for staff and visitors alike.
Enterprise-grade Solutions & Support that Leading Enterprises Rely On
















Workspace Booking System
Find the ideal meeting room and then book additional resources: direct from Microsoft Outlook, mobile devices and a range of room screens and signage options for the modern workplace.
Easy for your workforce
Save time, avoid meeting room 'frustration'
Give your workforce the meeting room booking flexibility they require
Provide a service that your teams will find straightforward to use, no matter how they prefer to work: using Outlook, their mobile device or any browser.
Enable quick and easy location and booking of work spaces and other resources, such as catering and parking, with the same look and feel whichever option is used.
Make it easy for meeting organisers to review and cancel their bookings to avoid waste.
On the day, a range of contactless digital signage and other options enable on-the-spot bookings as well as check-in to pre-booked rooms.
Check-in windows can be used to automatically release rooms in the event of a no-show, eliminating the frustration of rooms being fully booked in advance, but remaining empty on the day.
Great for facilities managers
Visibility & control for your estates utilisation
Use off-the-shelf reports (& easily create your own) to get insights that will help you answer such questions as:
Which rooms and work spaces are over- or under-utilised?
Can some of our meeting rooms be turned into general office space?
Can we release some of our real estate?
What is the impact of late cancellations & no-shows?
What can be done to improve our meeting room usage?
Who was in the same area or part of the building as a given individual (e.g. following the report of a COVID-19 infection) in the same time-frame?
Ideal for IT teams
Optimal integration, security & scalability
Take advantage of your existing investment in Microsoft environment to achieve the optimal user experience, simplified support, high performance & enterprise-grade scalability
Developed using the latest internet technologies, our room scheduling software solutions have been meticulously architected from the ground up to take advantage of the cloud and your Microsoft investment, both in terms of licencing and skill sets.
In our decade of experience in implementing workplace management solutions, we understand the challenges most organisations face and can deliver a great solution that meets your business needs and the requirements of your support Team in terms of integration, security, scalability and more.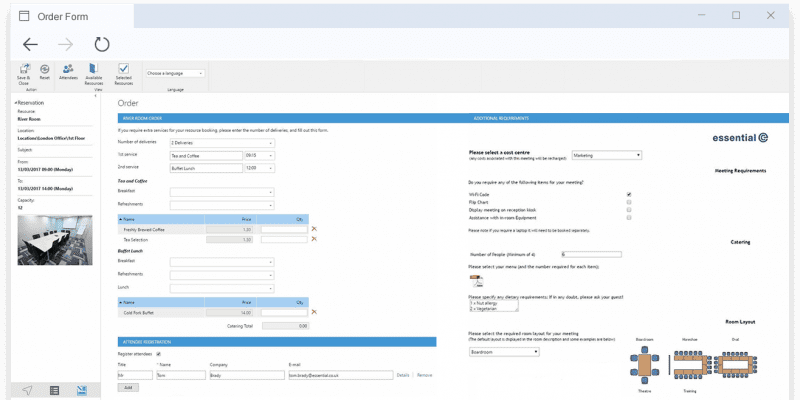 "To help with the rollout of our socially distanced desk booking service, Essential provided us with Colart-branded 'how to' videos.  This, along with interactive floor-plans that reflect our company look and feel, will help our workforce quickly transition to a new way of using our workspace"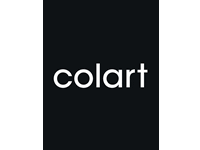 Claudio Toledo, Head of Project Management
Keeps visitors safe
Enhance workplace well-being
Slick workspace management helps ensure a safe & comfortable visit to your workspace for both clients & staff members.
Add visitor security details, allergens & special needs at the same as booking a meeting

Ensure a fully contactless experience

Add fire exits, WCs, traffic flow, sanitisers, first aid, etc. to digital signage

Automate sanitation scheduling between workspace uses

Stream on-screen messages such as fire alarm tests, traffic problems, COVID-19 protocol reminders, etc.
Meeting room booking software features
Online room booking made easy
Online room booking made easy
Give your staff the meeting room booking flexibility they need
Streamline finding a room from Outlook
Quickly and easily locate the best room for your meeting.
Filter by location, capacity, accessibility, layout (e.g. classroom, theatre), VC facilities (e.g. Teams Rooms) and so on.
Photographs and interactive maps ease your selection.
Pinpoint savings for your business
Highly accurate utilisation reports and cost tracking will help you understand exactly how office space and resources are being used and pinpoint where savings can be made.
E.g., if a meeting room is being under-utilised you might decide to convert it into an alternative space.
IT benefits
Take advantage of your existing investment & skills in Microsoft Outlook & Teams to achieve the optimal user experience, simplified support, high performance & enterprise-grade scalability.
Quickly adopted
By embedding within the default Microsoft collaboration tools and powerful scheduling capability (such as the scheduling assistant and Cortana), our room and resource booking service is quick to learn and easy to support.
Enhance workplace safety
Increases staff confidence in returning to the workplace.
Reinforce your social distancing measures
Display room occupancy limits & broadcast on-screen messages to remind staff of social distancing measures.
Incorporate traffic flow & other landmarks such as hand sanitising stations on floor plans.
Automatically enforce social distancing in line with current directives.
Find out how we can help you adopt & adapt the Microsoft Modern Workplace & Azure Cloud for your business