DIGITAL ROOM SCREENS FOR MICROSOFT 365
Create a professional image
Achieve a slick workspace experience using room display screens that best suit your needs & budget.
Use your own IoS, Android or Windows devices, or choose our RFID-ready, colour-glow display tablets to show meeting room availability.  Green = free, amber='ready for check-in', red=booked.
Put a screen outside each room or use a single screen to show the status of a 'cluster' of meeting rooms or workspaces in your office.
No other solution provider offers as much choice and flexibility:
Add your own branding & imagery
Support existing RFID/security cards for contactless check-in
Automatically free up rooms in the event of a no-show
Two-way sync between room screens & Microsoft Outlook Calendar free/busy status.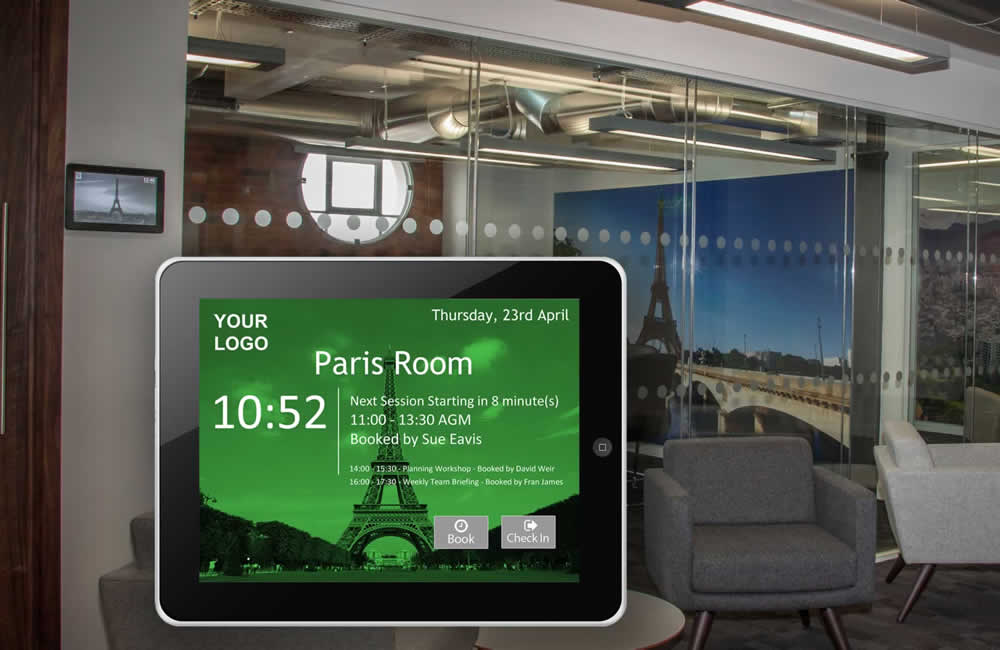 Use your preferred hardware
Save on costs by using your own choice of screen device and fixing options. Choose from iOS iPad, Android or Windows devices. Some legacy screens (e.g. Evoko) are also supported.  Alternatively use our dedicated Android room screens which feature an outer glow to show availability at distance, RFID option, PoE and LAN or Wi-Fi options and a 1-year or advanced 3-year warranty.
Display Microsoft 365 meeting room status
Use your display screens to show the current status of Microsoft meeting room mailboxes.  Any on-the-spot bookings, cancellations or extensions made via room screens are automatically reflected in Outlook calendar.  Likewise cancellations in Outlook calendar are instantly updated to room screens enabling immediate re-use.
Show multiple rooms in the same area using a single screen with simple floor layouts that give an at-a-glance status update and the ability to drill-down to details – e.g. imminent meetings.
Flexible check-in options & policies
Check-in on arrival, with the ability to define a time-window in which check-in should take place (e.g.10 minutes after the booked start time), means you can automatically release rooms for use by other staff. Check-in can be on-screen, contactless, and optionally via a link in a reminder email.
Fully customisable design
Screens can be customised with your logo, virtually unlimited colours, fonts, buttons and graphics. Each room can have its own theme, with imagery to co-ordinate with your office decor or corporate styling.
Tailorable on-screen information
Room screens can include information such as seating capacity, interior photos, built-in facilities (e.g. projector, white board, video conferencing), facilities staff contact numbers, etc.
Enable authenticated 'on the spot' booking and check-in using a wide range of cards and fobs including Indala, Hitag, CASI-RUSCO, MIFARE®, NFC, LEGIC & HID (call for details).
By capturing information on broken or faulty equipment directly from meeting room screens you can ensure that the relevant FM team is informed at the earliest opportunity. It also means that room facilities are amended for when colleagues seek to book a room with specific facilities.
One screen can switch between multiple language instructions using either on-demand language switching or automatic sequencing.
Assistance button & messaging
Optionally enable requests for technical help or other services, such as 'deliver catering now'.  Health and safety notices, scheduled alarm tests, security announcements, travel information, real-time messages to visitors and more can be displayed to all or specified screens.
Find out how we can help you adopt & adapt the Microsoft modern workplace & cloud for your business