Screens placed outside individual meeting rooms and in lobbies show availability at-a-glance, enable ad-hoc bookings and capture check-in details for accurate utilisation tracking.
Clear indication of workspace status is essential in achieving optimal meeting room utilisation and avoiding contention over bookings. No other solution offers as much choice and flexibility for your meeting room digital signage and contactless check-in technology.
Tailored to your exact needs
Incorporate colour schemes, corporate imagery & fonts to enhance the end-user experience & make your office look super-slick for staff & visitors alike.
Real-time, synchronised visibility
Whether you're standing outside the meeting room, at your desk using Outlook or on the move using your mobile, as soon as you make, update or cancel a booking, everything updates instantly.
Use off-the-shelf devices
Save costs & ease maintenance by using industry-standard hardware, our own screens, or even legacy room screen hardware.
Avoids meeting room wastage
Set a check-in period, so the room will be released if nobody shows up within your specified time.  Supports on-screen & contactless check-in.
Enterprise-grade Solutions & Support that Leading Enterprises Rely On
















Screen Signage Solutions for the Modern Workplace
The ultimate choice in meeting room & workspace booking screen solutions. No other solution offers the range of room and desk screen options for your needs.
Wide range of room screens
Create a Professional Image
Achieve a slick workspace experience using display devices that best suit your needs & budget.
Choose to use your own IoS, Android or Windows devices, or our colour-glow room display tablets to show meeting room availability.  Green = free, amber='ready for check-in', red=booked.
Put a screen outside each room or use a single screen to show the status of a 'cluster' of meeting rooms in your office.
You can also use your existing hardware provider to install and service your screens – there's no lock-in or proprietary hardware to worry about.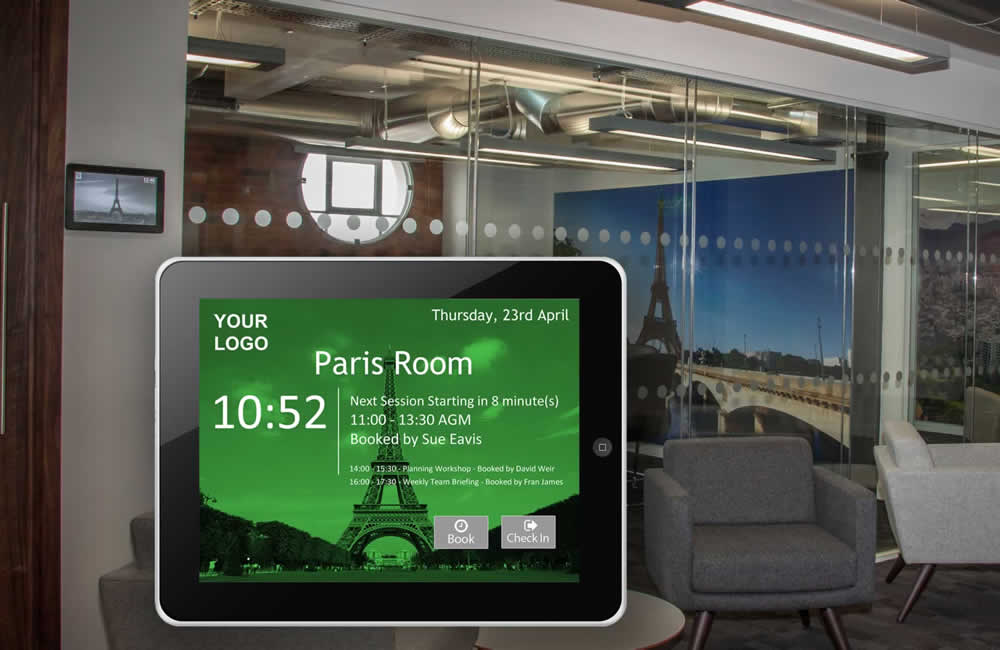 Sophisticated features
Flexible & Multi-functional
Tailor your room screen service
Our fully customisable design lets you provide the on-screen information, services and the look-and-feel you need to reflect your corporate workspace and booking requirements.
Customise to suit your corporate image and show details of current and forthcoming bookings as well as facilities available within the room (and fault reporting).
Support authentication that links with your Active Directory and gives you the option to use your mobile device or existing company RFID security cards.
Display useful information about the different facilities in each room and broadcast visitor messages and safety information.
Touch free options for booking & check in
Contactless Operation
Avoid risk of contamination
Our room screens are fully interactive using touch technology, but to ensure a Covide-secure environment, there's many other options you can offer your workforce to provide contactless operation.
Staff can use their mobile phones to scan a QR code or use bluetooth to either check in to a pre-booked room or make an on-the-spot booking.
Our room panels also offer a built-in RFID/NFC card reader so workspace users can offer up their existing security card to authenticate their arrival without touching.
Clicking on a link in an email is yet another option for confirming arrival.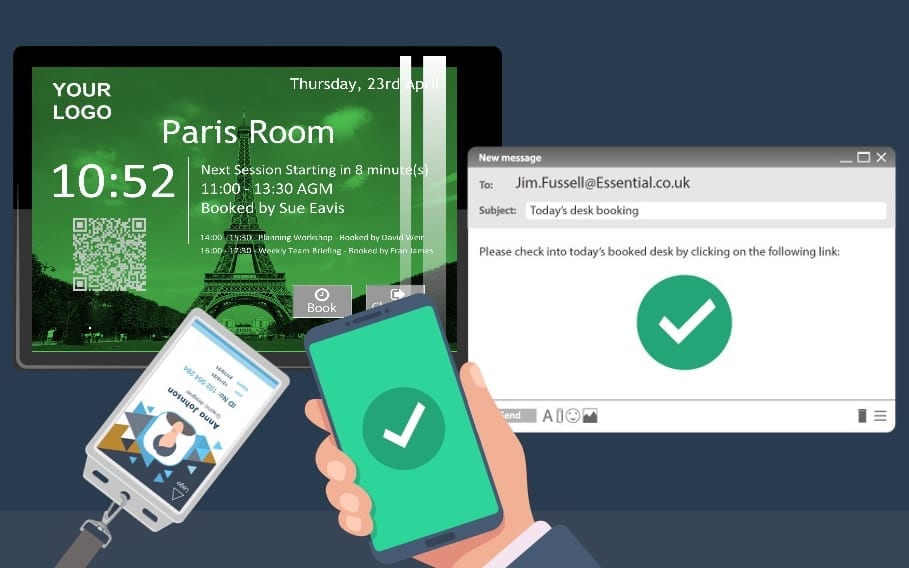 Workspace Booking Screen Options
Touch free options check in
The widest range of room & desk screen options
Give your staff the workspace sharing flexibility they require
Use your preferred screen hardware
Save on maintenance and replacement costs by using your own choice of screen device and fixing options. Choose from iOS iPad, Android or Windows devices. Some legacy screens (e.g. Evoko) are also supported – call for details
Fully customisable design
Screens can be customised with your logo, virtually unlimited colours, fonts, buttons and graphics. Each room can have its own theme, with a backdrop to reflect the name of the room. You can use a display colour to match in with the free/busy status of the room, or just use a colour and imagery to co-ordinate with your office decor or corporate styling.
Touch free options check in
RFID Support
Enable authenticated 'on the spot' booking and check-in using a wide range of cards and fobs including Indala, Hitag, CASI-RUSCO, MIFARE®, NFC, LEGIC & HID (call for details).
Streamline your meeting room & desk scheduling
Find out how we can help you adopt & adapt the Microsoft Modern Workplace & Azure Cloud for your business