Azure Cloud Journaling
On-demand, multi-source journaling delivered in Azure
Maintain legacy & ongoing email journals & carry out eDiscovery on demand.
When migrating to the 'journal free' Microsoft 365 platform, enterprises face the dual dilemma of:
How to protect their existing email journals, and
Whether to use the Microsoft 365 'compliance model' or maintain a conventional email journaling service elsewhere.
Now you can leverage Microsoft Azure to provide a secure and compliant journal service that does not lock your data in.
"We have more than 8,000 Exchange Online mailboxes journaling to our own Azure tenant."

Lee Sullivan, Monster Worldwide
Fully managed in Azure
Completely turn-key whether the service runs in your Azure account or ours.
No lock in
A true cloud model, we do not lock your data in either technically or contractually. Pay only for what you use.
Fast eDiscovery
Index content at blazing speeds. Perform eDiscovery searches using custodian, folder, keywords & metadata. Save searches to a case and export to PSTs or other formats.
Data aware storage
Once stored in the cloud, you can visualise and query what you have and make informed and defensible decisions on what to keep.  You can also build policies, audit all activity and perform eDiscovery as and when you need.
WORM Storage
Meet regulatory and legal requirements with our Write Once Read Many (WORM) retention in any Azure datacenter in the world. The service can also be your designated third party (D3P) with attestation to the regulatory body about your compliance.
Data Governance
Collect Journal feeds from multiple domains, apply retention policies, put items on legal hold, get WORM compliance and prevent data loss.
Journaling & eDiscovery in Azure
If your business requires an email journaling service, there's now a convenient, low cost & zero lock-in way to remain compliant & responsive.
Azure Cloud Journaling
How we can help you
Using our combined legacy journal migration and Azure-based journal service, you can both preserve existing on-premises Exchange journals and continue to capture a journal feed direct from your Microsoft 365 tenant.
Powerful full content indexing means you can perform super-fast eDiscovery searches using custodian, date ranges, sender/recipient including BCCs, keywords that look into the message body and attachments, and more.
With the option of storing data in your own Azure tenant, you can keep your compliance journals completely under your control.
Azure Cloud Journaling
Benefits
Low cost storage
Fast, scalable searching
Legal hold
WORM retention in any global Azure data centre
Identity and access management tools
Activity auditing
Capture SMTP feeds from Exchange, Microsoft 365 & other sources including Google Workspace (G Suite)
Supports a range of instant messaging platforms including Slack, Twitter, Facebook, etc
Supports legacy data ingestion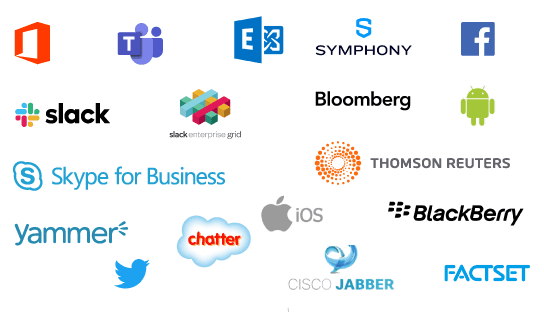 Find out how we can help you adopt & adapt the Microsoft Modern Workplace & Azure Cloud for your business