How Wessex Water is Streamlining Meeting Room Usage & Microsoft Surface Video Conferencing to Reduce its Environmental Impact.
Wessex Water takes its responsibility to the environment very seriously, with a stated policy that includes reducing emission levels and implementing new technology to improve working practices.
A prime example of this pledge being put into action is the company's use of Microsoft's Surface Hub, an impressive, large-format interactive virtual whiteboard, Microsoft Apps and video conferencing facility.
James Eccles, from Wessex Water, commented
"Apart from looking great, the main reason for using these devices was to reduce travel. Rather than everyone having to drive to our operations centre north of Bath for meetings, we've rolled out Surface Hubs into about ten regional meeting rooms. This means staff can go to their nearest regional office for most meetings and it's reduced travel significantly."
Key to orchestrating 'minimal travel' meetings was that organisers should be able to easily locate and book multiple regional meeting rooms, at the same time as scheduling a Teams video conference.
Using a solution from Microsoft Partner Essential Computing, Wessex Water has been able to build advanced room and resource scheduling capability into its Office 365 calendaring system.
Staff can now find free rooms that have the Surface Pro Hub facility installed and book them along with any other resources such as catering and visitor parking, all in one go.
Another goal of investing in the solution was to reduce unused meeting rooms and encourage people to be more responsible in managing their bookings to avoid empty meeting rooms.
Explained Eccles,
"We had a historic problem of never being able to book a room, but whenever you walked round the building, you'd see empty meeting rooms. We wanted a system that had auto-cancellation and also a way to see a real-time display of room status and be able to sign into it on the fly if it was not being used."
By adding touch screens outside key rooms, staff at Wessex Water can now see whether a room is free or about to become free. An ID-card check-in facility means that if a meeting doesn't go ahead for some reason and no-one shows up in person, the room can be automatically released for someone else to use.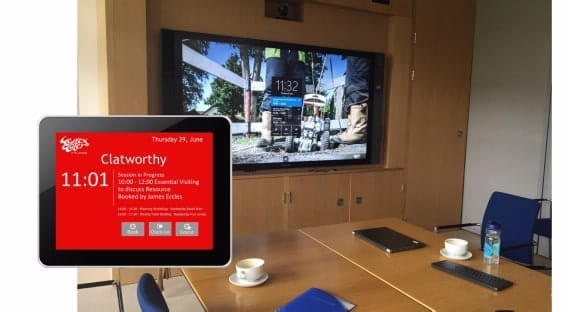 Concluded Eccles,
"Since implementing our room booking system there's definitely better utilisation of rooms. If people don't need them they are proactively released for someone else to use. And, because you can see room capacity when you're looking for a free room, people can now select a room that is more appropriate to their needs.

It's also made the process of booking a Teams meeting and adding the Surface Pro Hub rooms so streamlined and easy. On the day of the meeting you just check into the room, walk in, sign into Teams, share your screen to people already dialled in, start drawing on the screen, send your email to all the participants, finish your session and check-out. It's almost magical."
Meeting room, desk & resource booking solution
Start managing your meeting room & desk bookings more effectively with the only solution built on your Exchange & Office 365 infrastructure.