Avoid Costly Downtime
Foresite delivers the critical information you need to manage SharePoint proactively and avoid outages that can seriously impact key business applications.g.
Easy & Effective Monitoring
Foresite automatically monitors critical SharePoint services, such as Site Availability, Timer Jobs, Search & Index service, and content databases. All of SharePoint's underlying core technologies are also proactively monitored including IIS, Active Directory and SQL.
Customisable Reporting
Foresite's advanced reporting provides both the real-time data and historical trending you need to optimise system performance, improve service levels, plan for the future and get clear visibility into your company's SharePoint platform.
Vital Information at-a-glance
Foresite's web-based One Look dashboard makes it easy for you to monitor all your environmental vital components with a quick glance at a single screen – even from your mobile phone.
Custom Alerts
Foresite can be set up to send email alerts to notify your team of an impending problem with SharePoint.
Expert Approved
Feedback from SharePoint MVPs and technology leaders from around the world has helped to create this innovative solution.
Going beyond generic monitoring for SharePoint with Foresite
Foresite delivers comprehensive monitoring on all the key components of your Sharepoint environment. Here are the key areas Foresite monitors: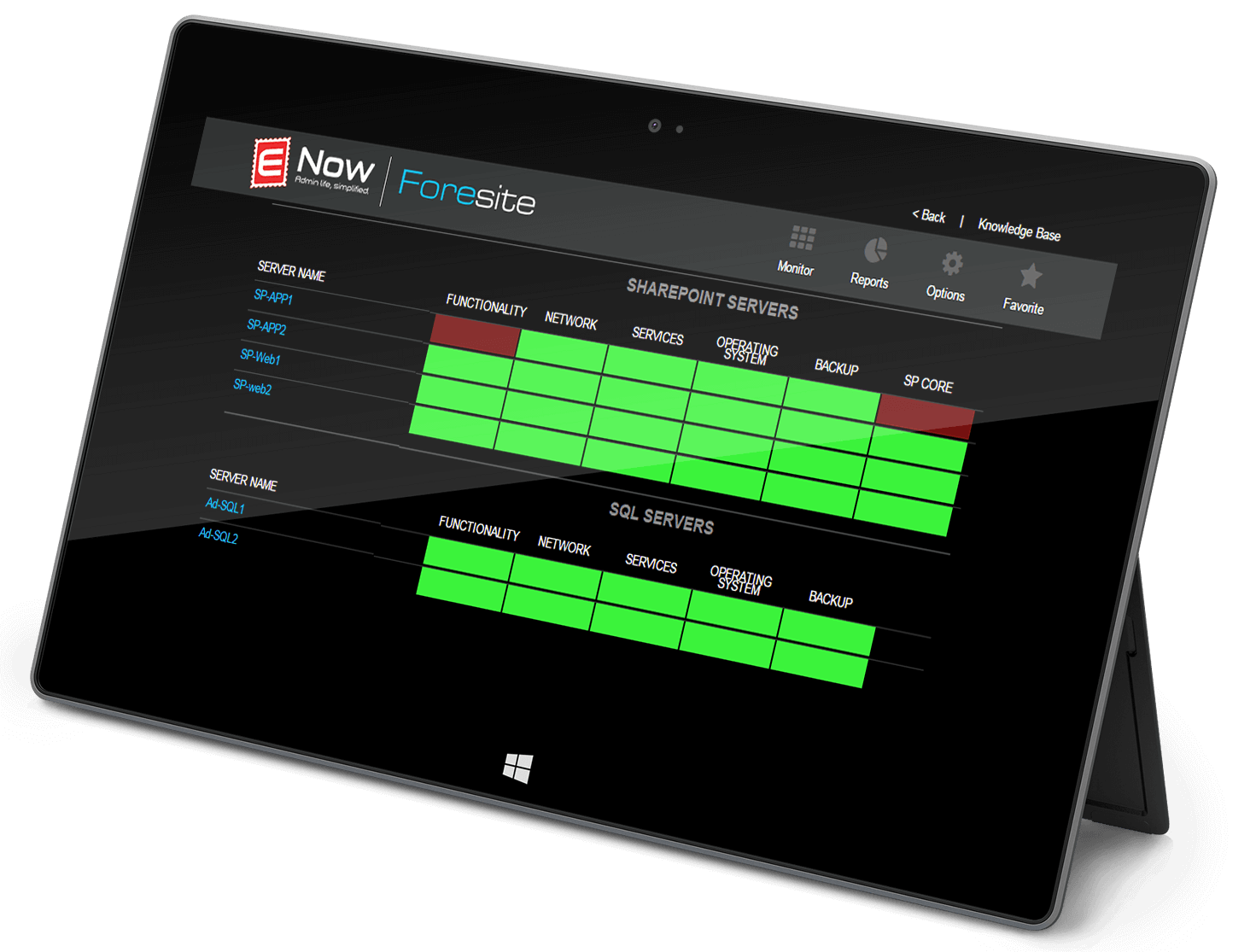 Functionality
Site Status
Time Job Status
Search/Index Service testing
Content Database State
Network
DNS Testing
Active Directory verification
Management System verification
AD Replication check
Services
Auto Configured Services
Manual Configuration of additional Services
Operating System
Disk Space monitoring
Resource monitoring
Event monitoring
Sharepoint Core
IIS Status
SQL Status
Log Status
Full Backup Status
Comprehensive reporting of your SharePoint server with Foresite
Foresite brings you the ability to pull up all sorts of reports about your SharePoint server, from total number of Microsoft document to InfoPath Forms by Item count, thus delivering comprehensive monitoring and reporting on all the key components in your SharePoint environment.
Content
Total Number of Documents
Total MS Word Documents
Total MS Excel Documents
Total MS PowerPoint Documents
Total Zip, PDF, JPG, PNG and GIF Files
Total Size of All Documents
List
Contact List by Item Count
Announcement Lists by Item Count
Event List by Item Count
InfoPath Forms by Item Count
Tasks by Item Count
List and Documents Libraries by Item Count
Portal / Site
Portal by Number of Users
Portal Overview
Sites Overview
All Sites by Number of Users
Find out how we can help you adopt & adapt the Microsoft Modern Workplace & Azure Cloud for your business