An ideal option for contactless operation, QR signs are a flexible, low cost way for staff to book and check into workspaces
Simply by scanning strategically placed QR codes with their mobile device, staff can view the availability of workspaces, make bookings and check into pre-booked rooms and desks.
Behind the scenes, our workspace management solution lets you implement advanced security, policy-based booking & utilisation tracking.
Use in place of screens & desk devices
Simply generate a QR code that relates to the room(s) or desks you want to book & put it in place.
Covid-secure
Scanning the code on a mobile device gives contactless access to booking & check-in functionality.
Adapt touch screens with QR codes
Update 'kiosks' in reception areas or individual room screens to provide your workforce contactless interaction.
Enterprise-grade Solutions & Support that Leading Enterprises Rely On
















QR Code Solutions for the Modern Workplace
The ultimate choice in meeting room & workspace booking screen solutions. No other solution offers the range of room and desk screen options for your needs.
quick & easy to deploy
Get a Rapid Solution to Enabling Covid-Secure Bookings
Many of our customers are simply printing out a card for each desk with a QR code and number combined.
When you're in the office, scanning a QR code next to a workspace using your mobile device* will show availability, both immediately or at a later time or date, and let you make a booking on the spot.
You can also use the same functionality to enable authenticated, contactless check-in to workspaces that have been booked in advance.
If you're using digital signage for meeting rooms or desks you can add QR codes to the screens and use the same functionality.
*The QR code will activate the workspace booking app or link to a web page for that resource, which in turn links to our workplace booking service.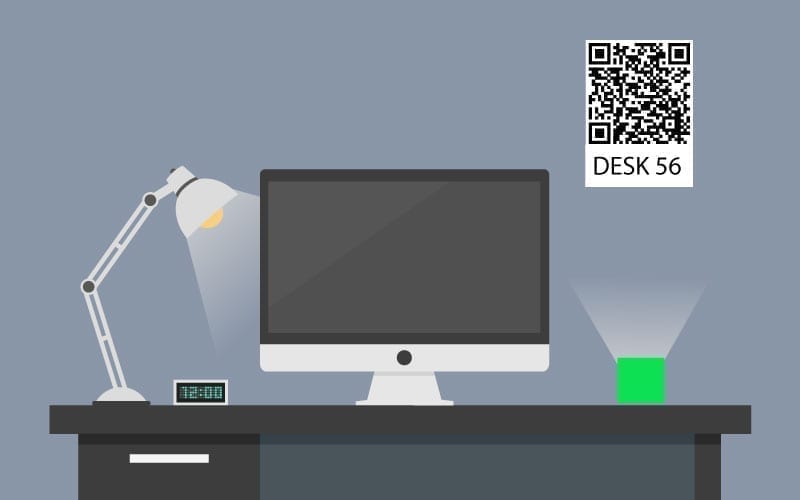 Find out how we can help you adopt & adapt the Microsoft Modern Workplace & Azure Cloud for your business