Impress Visitors – Enhance Their Safety
Slick visitor management is essential to uphold your brand reputation. It also helps ensure security for your premises and a safe visit for your clients as well as any staff members that are new to an office location.
At the point at which you create a meeting invitation in Microsoft Outlook – right through to their arrival on the day – you can now streamline the arrangements that will make your visitors welcome to your workplace.
Send helpful invitations
Automatically send confirmation emails with maps, directions, health & safety information & contact numbers.
Raise security standards
Log visitor arrivals and departures to maintain site security.  Improve compliance, including with data protection regulations.
Book visitor passes, parking & more with ease
Visitor information & any requests such as a parking space, any allergens & accessibility needs, can be made in advance by the meeting organiser at the same time as booking a meeting room.
Avoid queues & delays
Enable self-service check-in & automatic notifications of arrivals to meeting organisers freeing reception staff to focus on giving visitors a friendly welcome.
Ease administration
Automate badge printing & other reception services such as providing wifi codes at check-in.
Use paper-free passes
Create a unique code that serves as your visitor's access pass during their stay.
Enterprise-grade Solutions & Support that Leading Enterprises Rely On
















Visitor Management for the Modern Workplace
Get a range of services designed to create a good impression with visitors while easing the administrative tasks involved in managing them.
Set expectations in advance
The Visitor Experience Starts Before Arrival
It's not just about 'front of house' experience
Ensuring the well-being of your visitors, and creating a great impression start well before they arrive in your foyer.
Now you can manage the end-to-end visitor experience, for example, at the point at which their visit is booked in the Outlook calendar you can:
Send a security QR code for their contactless visitor pass
Email directions & safety information (e.g. your Covid-secure measures)
Book parking
Capture catering requirements (e.g. allergens)
Lodge any special requests (e.g. disabilities, VIP)
Ensure you have the right meeting facility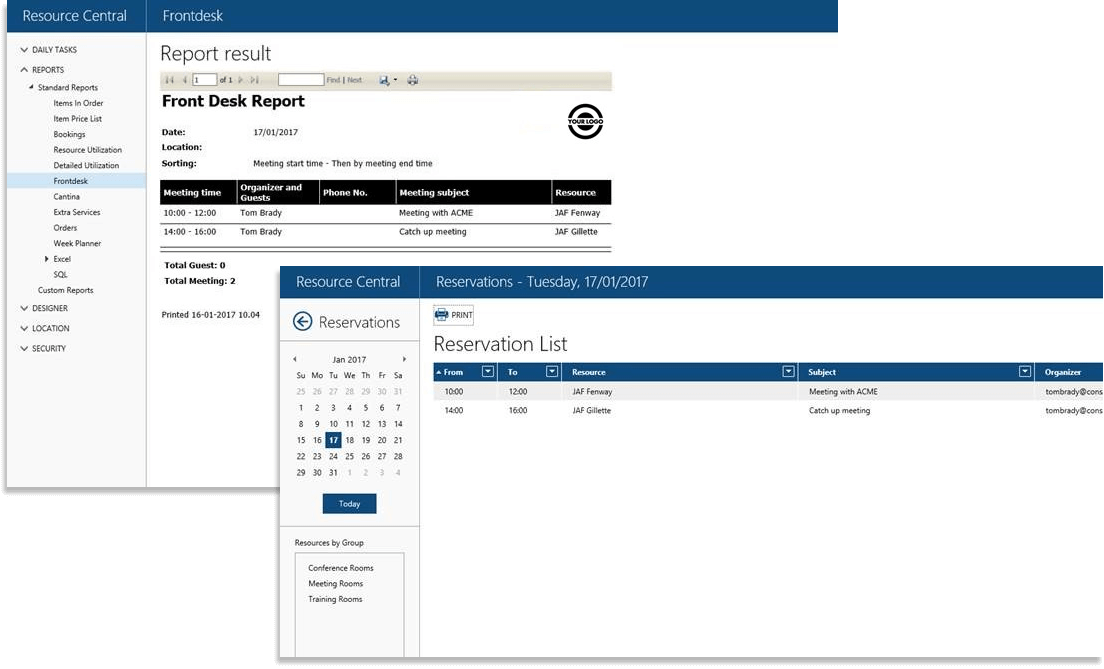 Visitor front desk services
Create a Slick & Efficient Impression on Arrival
These days customers expect a professional, seamless experience when they visit your office.
Self-service registration and contactless visitor passes ease front desk administration.
Digital signage and way-finder screens help visitors (and infrequent staff members visiting) feel welcome and properly oriented.  They can also be used to help visitors follow any social distancing guidelines.  Other health and safety messages and general information (e.g. fire alarm tests, traffic updates) can be directed to all or specific room screens.
Even last-minute meetings can go smoothly thanks to the ability to quickly locate a free and appropriate meeting space.
Visitor Management Features
Business benefits
No longer do receptionists have to spend an inordinate amount of time signing visitors in and notifying hosts.
Information gathered at the point of booking
Meeting attend information along with special requests such as parking, accessibility assistance, allergen information and, can be booked in advance via an Outlook-integrated form.
Automate your visitor management process
Find out how we can help you adopt & adapt the Microsoft Modern Workplace & Azure Cloud for your business