Are you planning a 'Covid-secure' workspace booking system? As and when your workforce can return to the office*, here's 4 top tips when it comes to how you go about identifying your Covid-secure desks.
*Tip 3 in this blog is even more important given the announcement of the new four-step plan to ease England's lockdown
1. Walk the floor
It's tempting to use CAD diagrams as a reference when numbering workspaces, however in our experience these can quickly become out-of-date.  Desks can get informally 'nudged' around and added or removed over the years.
You may also find there's glass partitions or dividers that give extra protection that are not obvious in a CAD diagram.
There could also be some 'desire paths' (as opposed to the originally intended walkways around the office).  These will need to be taken into consideration (or blocked off) to avoid traffic passing too close to desk occupants.
If possible, the best starting point is to physically walk the floor with a tape measure and a critical eye.   Numbering each desk as you physically encounter them is also the best to ensure your staff can easily find the particular desk they've booked with minimal hunting around.
2. Treat your desks like hotel rooms.
It's always a good idea to use familiar and intuitive conventions, and the way in which hotel rooms are (usually) numbered is worth emulating for your desks.
So:
Use the first number to indicate the floor, and the next digits to signify the workspace number. 3 digits will give you up to 99 numbers to 'play with' per floor.
If you have more than 99 desks on a floor, you will need to use 4 digits in total.
Ideally your numbering should count up in a clockwise direction as you walk around the office floor, starting from the main entrance (e.g., the main lifts).
Numbers should be allocated logically within a desk block, to minimise the amount of walking around to find a desk.
You may consider adding signage in strategic places (e.g. other entry points to the floor) to signpost desk ranges.
Consistency helps with this process, so number desks counting up clockwise around a block or zig-zagging across a block of desks, but don't mix these 'conventions' up.
The above example shows the right way and the wrong way to number your desks.  Our great tip is to imagine you are walking along the floor using the main thoroughfares.   How would you feel if desk 19 was on the other side of the floor from desk 16?  Confused, we think.
Finally, even if you just have one floor of desks, it's useful to include a '0' on your desk numbering, so count 001-099, not 1, 2, 3 up to 99, as some desk booking systems sort alphanumerically.
3. Number all potential desks (not just the safely spaced ones)
We have seen (and thankfully, averted) more than one project where the intention was to only allocate a consecutive number just to the 'safely distanced' desks.
For example: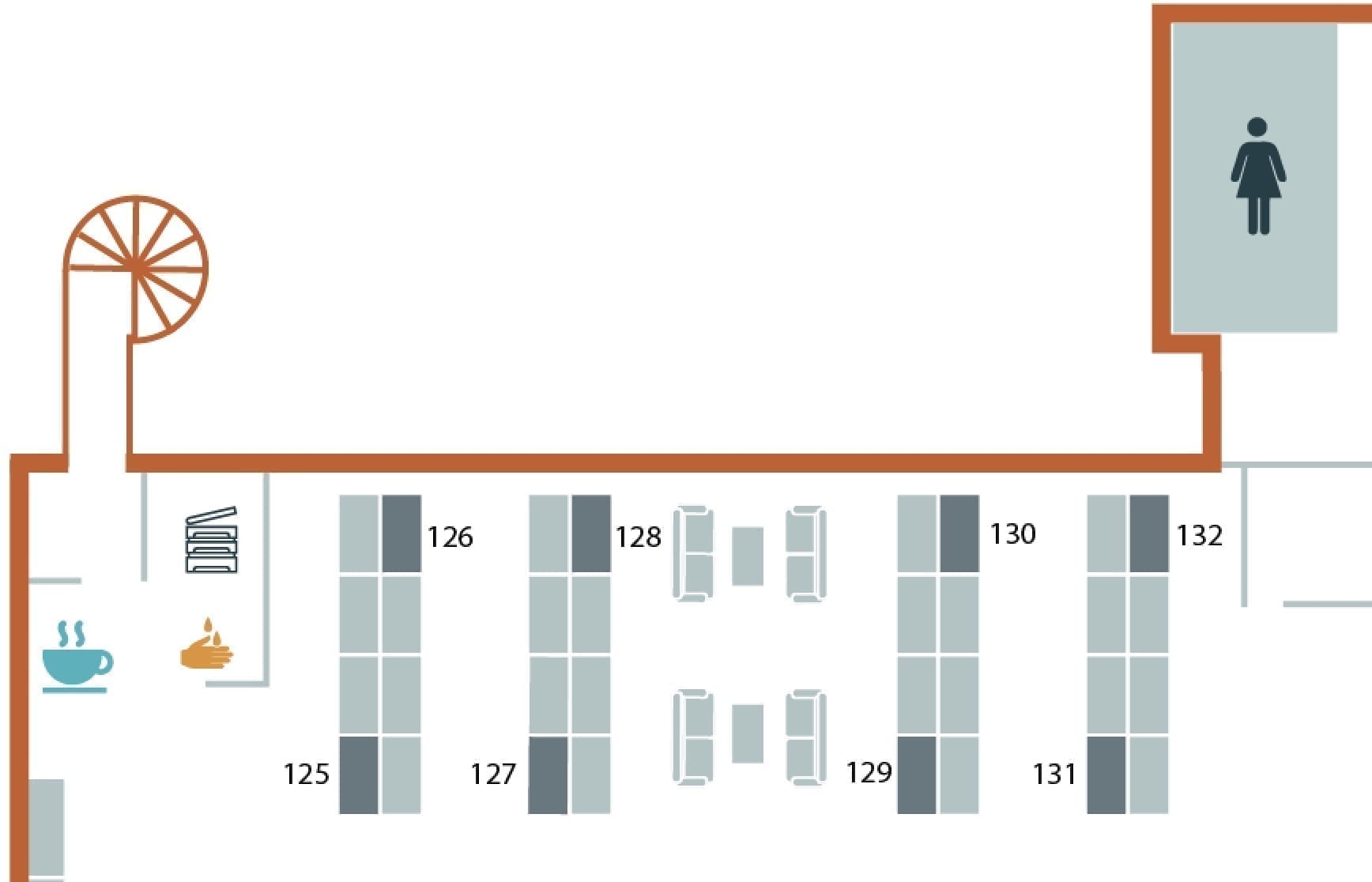 The key downside to this approach is that social distancing requirements may change.
For example, changes to Government social distancing guidelines from 2m to "1m Plus" came into play last year, and (given half a chance) you may have changed your desk arrangements accordingly.
*STOP PRESS – As of Monday 22nd February, Boris' new four-step plan set out guidance on when we can expect easing of restrictions, but when we can return to work looks like it will follow a review into social distancing – which could see us well into June 2021.  
Even after this date, Sir Patrick Vallance indicated that additional measure may need to be re-introduced when we move into next Winter.   This could mean the wearing of masks, but also the increasing of social distancing measures in the office.
Of course, it may just be as simple as un-sticking your desk numbers and re-applying them as required, but this will confuse staff.
Also, if you use a workspace booking system you will have to change up your desk numbering accordingly.
By allocating a consecutive number to each potentially available desk on the outset, you won't need to make any physical changes to your desk numbers at a later date.
Instead, you'll just have to amend what's bookable in your workspace management system.
By numbering each desk, you can also take advantage of auto-zoning technology.  To see this in action, check out this video.
As you'll see in the video, when a user selects their preferred desk, adjacent desks are automatically 'blocked out' according to specified rules that can be applied across the board and updated as needed.
4. Prepare for something different altogether
With the home working genie fully out of the bottle, our physical office spaces will probably never be the same again.
Research carried out by Cisco indicates that 77% of larger organisations will adopt a more flexible working policy post pandemic.   It's not surprising, therefore, to learn that 53% of organisations predicted a reduction in their future office space footprint.
Whilst turning half of your office space into a fully stocked bar (like high-end tonic maker Fever Tree) might not be an option, shrinking or re-organising your office space to reflect your predicted future utilisation, should be on the agenda now.
If there's any silver lining to this situation, it's that pre-pandemic, introducing a desk sharing scheme (often referred to as hot desking) tended to be an emotionally charged affair.  In short, staff were happy to be able to work from home but were not at all happy about losing their desk.
Coronavirus has forced the situation, with workforce safety trumping desk ownership politics.
Given that 'return to work round two' could be a while off yet, enterprises like Fever Tree are taking action and re-mapping their office now.
Whilst a bar might be a popular attraction for your workforce, rearranging your office space to accommodate your future needs might be more realistic.
Figuring out what workspaces will be required going forward may need some analysis:
How many days in the week will staff typically want to visit the office?
Will staff want to come in for focus time? In which case, you may need to more quiet areas.
Is the main driver to meet with co-workers? If this is the case, you'll need more smaller, collaborative areas?
It's probably going to be a mix of both types, but the reality is, you may never return to a 1:1 ratio of desks to staff.
Covid-secure workspace management
Read more about services to help your enterprise book, provision & manage your workplace for social distancing & beyond.