Modernise your Dell/EMC data
Powerful & Fast Email Archive Migration
As you upgrade or decommission your email archive, or move to a totally different email platform, ensuring your legacy emails are protected and stay 100% accessible to both end users and the business is essential.
With in-depth expertise in both EMC EmailXtender and EMC SourceOne, we are able to deliver a fast and comprehensive migration service to your chosen platform such as Enterprise Vault or Microsoft Office 365.
If you're planning a move, speak to one of our experts. We can guide you around such issues as preserving data from the unique SourceOne storage model, and ensuring that journal archives are correctly migrated.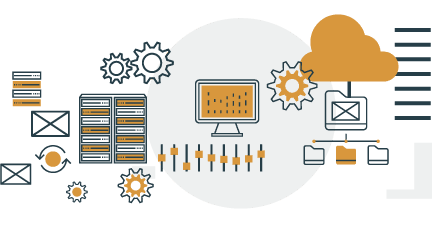 Benefits
A Quick, Reliable & Transparent Migration
Prove chain-of-custody
Forensic reports show 1:1 mappings of the ID of the item in the source archive and the ID of the new item as it is moved to its destination e.g. Office 365.
Ensure a seamless experience
If you're migrating to Office 365, we can automatically synchronise with shortcuts & delete any shortcuts post-migration.
Maintain business as usual as you migrate
Your data is extracted at high speed, without impacting your SourceOne archive retrieval service or index, ensuring 'business as usual' for users.
Control what you migrate
Define granular filters & policies (e.g. exclude items older than 7 years) to reduce your migration workloads yet remain compliant.
Find out how we can help you adopt & adapt the Microsoft Modern Workplace & Azure Cloud for your business