Kennedys chose Essential for their prioritisation of compliance and staff accessibility when migrating legacy emails from Enterprise Vault to the cloud.
Kennedys had used Symantec Enterprise Vault for many years to minimise mailbox sizes in Microsoft Exchange and also to store a compliance journal.
They embarked on a critical project to consolidate existing infrastructure and deliver a global standard for email services, which included huge volumes of legacy email archives.
To discover how Essential's expertise helped Kennedys law firm to migrate from Symantec Enterprise Vault for Exchange to Mimecast, read the case study.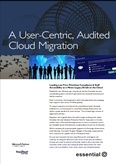 Migrate Your Email Archives to the Cloud
Discover how we can help you migrate your email archives from EV to Microsoft 365.