Productive meetings have been a hot subject since that Elon Musk leaked email. But why did Elon chose to target meetings in order to increase company output?
Did you know that that the average Executive spends about 18 hours a week at meetings?
Yet, almost half of us view meetings as one of the biggest time-wasters at work.
Elon is not alone in thinking that effective meetings can increase productivity.
Why effective meetings are so important
Does that remind you of your meetings? Take heart because we've all been there.
Everything in business is about reducing costs and increasing profit. You will be surprised at how much a meeting costs and the impact they have on your bottom line. That's why it is very important to aim for effective meetings.
Forward-thinking organisations and individuals alike have found several new approaches to drive effective meetings. Some approaches are straightforward, but some are more radical.
Most CEOs agree that being on time, reducing meeting times and setting the agenda early are ways to improve meeting effectiveness. Some have taken more extreme tactics including removing chairs and banning phones and laptops during meetings.
Technology can also have a positive impact on running meetings more effectively. From assisting with scheduling meetings to facilitating meetings altogether; there are several tools that can supercharge your meeting efficiency.
Streamlining the Scheduling Process
Finding the right time and place for your meeting can be a huge time sink before you even start your meeting. You get the endless back and forth emails to find the best meeting time or to reschedule double-booked meetings.
Outlook scheduling assistant can be a great start and help you save time finding a mutually convenient time slot with co-workers.
However, not all meetings are internal, and in most cases, you do need to meet with people outside of your organisation.
This is where tools like FindTime, Doodle or Calendy come into play. By synchronising your available or desired meeting times, you can quickly get to a mutually convenient slot.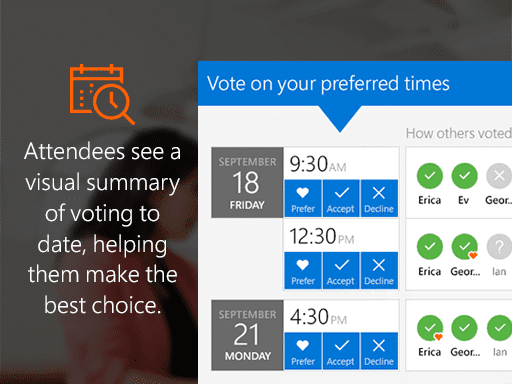 We love using FindTime in conjunction with our solution, as it's the free native Office 365 tool from Microsoft.
Booking Additional Services
What happens when you need to book meeting rooms and other resources and services like catering, AV equipment, or even parking? This can result in even more phone calls and emails to catering and reception staff.
Resource Management solutions enable you to book meeting rooms and other resources all in one place. On top of that, integration with Outlook Calendar provides greater end-user experience.
Making Sure Everyone is On Time
When people are late to meetings, this can result in unnecessary delays. There is the need to recap and to extend meetings to cover the agenda. Over-runs start interfering with other meetings, causing disarray not only to you but to colleagues.
Calendar apps notify individuals through email and push notifications, helping staff to be on time.
Yet, that covers only the meeting participants. What about all the other elements that come into play to get your meeting off to a fast start.
It would not be the first time a teleconferencing camera or microphone failed to work.
Similarly, visitors and co-workers from other offices can get held up in reception as they attempt to locate where they need to go.
Resource Management tools make sure that any service providers, such as technicians, reception staff and the all-important catering staff get timely notifications on exactly what meetings are taking place and what their role is in making them go like clock-work.
Maps and wayfinding displays can also help visitors navigate to the right meeting room.
Aside from helping get everyone to the meeting on time, these types of services make great first impressions, especially on visitors!
Stopping meeting no-shows
Nonetheless, getting people on time to meetings is not even your biggest challenge. Meetings that fail to take place are!
A study carried out by collaboration experts Atlassian found that 96% of the people they surveyed had at some point missed a meeting and this is money down the drain when real-estate costs are at an all-time high.
When our customer, Airbus, went through an estates rationalisation, they decreased the number of meeting rooms by 20%, but still had to facilitate the same number of meetings.
Through our utilisation reporting, they came to realise that people had a habit of booking recurring meetings and forgetting to cancel them.
That meant empty rooms that could have been used for other meetings.
Using meeting room display technology, Airbus is now automatically releasing meeting rooms when organisers don't check in on time. This enabled them to release a staggering 3,300 hours of meeting room capacity each month.
Other companies are going more hard-core in an attempt to break the no-show habit. For example, with our solution, it's possible to stop repeat offenders booking any more meetings for a while.
Apart from tracking actual room utilisation and check-ins, room screens enable a at-a-glance visibility of meeting room availability and create a great impression.
Remove the bricks and mortar constraints from your meetings
You should always test whether you actually need a meeting. Once you have established that, then you can decide the time and place.
Importantly, the place doesn't necessarily need to be a meeting room. It can be a nearby café or, even better, online.
Leveraging tools like Microsoft Teams, GoToMeeting, Zoom and many other online meeting tools can reduce the costs associated with physical meetings.
Resource Management solutions make it extremely easy to schedule virtual meetings and conferences. With the click of a button, you can turn your meeting into a Skype for Business meeting or conference call.
Keeping your meetings on track!
Meeting agendas, as we saw, was high on the list for running effective meetings.
There are lots of great tips to on how to create an effective meeting agenda.
However, having an agenda in place and making people stick to it are two different matters. And sometimes, removing technology can be a good thing.
To make your meetings stickier, as pointed above, you can eliminate laptops and mobiles from meetings.
Laptops and mobiles can become counterproductive, especially in meetings. by allowing people to hop on to other tasks (73% of us tend to do other work).
Our tip is to only allow laptops for the designated note takers and for presentations, thus gaining more control over your meeting.
Subsequently, to be even more productive with your meeting action plans, you can use several tools for minutes and note taking.
As cloud empowers collaboration, you can share note-taking and no other tool is more straight-forward or familiar than Word; and in this case Word Online.
And, if you are running a task management tool like Planner, Asana or Trello, you can easily attach a shared Word link to the appropriate task.
Final Thoughts
Recent advancements in Cloud computing and apps have enabled us to increase our efficiency. There are lots of tools that we can use to be more productive, and meetings are no exception.
It is important to choose the right tools, get the most out of them and make sure they tie in with what you currently use for your day-to-day calendaring and collaboration.
Add technology to your meetings, like the tools we mentioned above, and watch your meeting effectiveness skyrocket and your workspace optimisation improve.
Let us know in the comments if you know other ways that technology promotes effective meetings.