Independent consulting firm, Berenschot Groep BV, migrates from Autonomy ZANTAZ EAS to EMC SourceOne as part of its migration to Exchange.
When the time came to upgrade its email service to Microsoft Exchange 2010, Berenschot discovered that its archive application, Autonomy ZANTAZ EAS, did not yet support this platform and that a product road-map was unavailable.
Essential delivered the migration from EAS to EMC SourceOne and was chosen by Berenschot due to our expertise in delivering time sensitive projects.
To learn more about the project it self, please view the case study.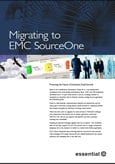 Powerful & Fast Email Archive Migration
Discover how we can help you migrate your email archives from Autonomy Zantaz EAS to SourceOne for Exchange and enquire about your migration project.