Shrink Storage Costs
On-demand Tiered Storage
Don't let low-touch and infrequently accessed data pile up on expensive primary storage.  Don't spend any more on-premises storage hardware.
If you have on-premises infrastructure and are running out of space for general storage or backup, we can help you take full advantage of Microsoft's Azure tiered storage which gives you a choice between hot, cold, or an archival tier depending on how you access the data.
Storing data in Azure can decrease costs while freeing up resources and time.
No longer will your company need to keep buying different types of storage in different areas when the need arises. You data will be stored in one place and expanded as needed.
It takes just 15 minutes to install on a Windows host, then all you need to do is define policies to automatically move data to the cloud based on your business needs.
Meanwhile users and applications have seamless access to data stored in Azure:
Users see data through the use of offline files that provide a seamless recall when clicked.
Local caches let you optimise recall performance for frequently accessed items while minimising egress from the cloud.
Inline deduplication and compression delivers savings between 25-60%, and you pay only for what you use.
"We have more than 8,000 Exchange Online mailboxes journaling to our own Azure tenant."

Lee Sullivan, Monster Worldwide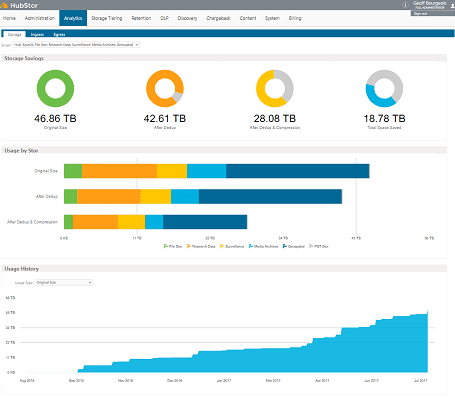 How can we help you
Shrink your Storage Costs
This flexible, pay-as-you-go storage platform will give you a low cost, powerful storage management layer that delivers:
Tiered storage economics, optimising Azure Hot, Cold & Archive tiers
Policy-based retention management
Policy-based storage tiering
Powerful eDiscovery
Continuous data protection
A great alternative to on-premises disk or tape for your backups
Tight security & compliance features
PII identification
You can also revolutionise your backup services using our agent-less backup service which lets you use the cloud to replace inefficient and cumbersome tape and off-site location strategies.
No lock in
A true cloud model, HubStor does not lock your data in either technically or contractually. Pay only for what you use.
Data Governance
Collect Journal feeds, apply retention policies, put items on litigation hold, get WORM compliance and prevent data loss.
Data aware storage
Once stored in the cloud, HubStor enables you to visualise and query what you have, so that you can make better decisions on what to keep. Build policies, audit activity and perform discovery as and when you need to.
Re-purpose existing file servers as cloud storage gateways
Creates simple software copies, adds storage tiers and migrates data based on policies you define without adding new hardware or disrupting users/apps.
On-demand Tiered Storage
Flexible, low-cost storage for on-premises and hosted applications.
Find out how we can help you adopt & adapt the Microsoft Modern Workplace & Azure Cloud for your business