WORKSPACE BOOKING KIOSKS FOR RECEPTION AREAS
Create a warm welcome with self-service workspace booking
Placed in foyers and reception areas, our kiosks and way-finders make it easy for your workforce to find where they need to be, locate co-workers and make instant bookings of available rooms, desks, team spaces and other facilities.
Staff can select their preferred workspace using a range of 'kiosk' services including:
Interactive floor plans that let you navigate between floors & departments
Locating free meeting rooms & workspaces based on capacity & facilities (e.g. a video conferencing suite for 8 people)
Searching for co-workers (in order to book a workspace near them)
On the spot & future bookings
You can also offer services to visitors that include self registration.  Read more about our visitor services.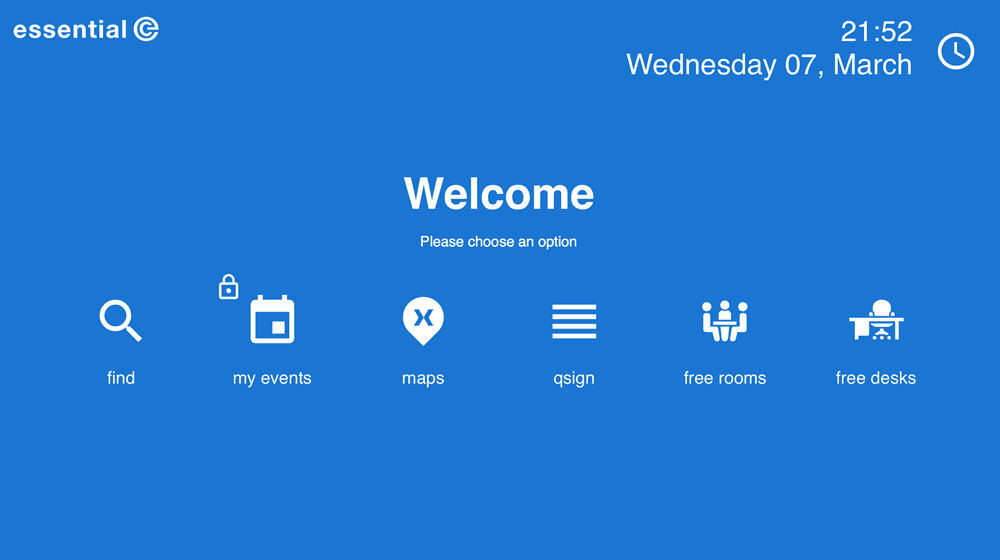 Use multi-floor interactive maps to give staff at-a-glance availability and location information, instant booking, check-in, check-out and extend functions.
Tailored to your exact needs
Incorporate logos, colour schemes and fonts – all of which enhance the end-user experience and make your office look super-slick for staff and visitors alike.
Use your own choice of screen
Save on maintenance and replacement costs by using your own choice of screen device. Large format screens Windows devices are great, but you can also use smaller Apple iOS or Android tablets.
Use our slick kiosk screen
Our stylish stainless steel effect screen looks great in any corporate reception setting.
Contactless authentication & check-In
Use kiosk screens that are RFID enabled to enable authenticated booking. You can also let staff use their mobile devices to complete a booking or check-in, simply by adding a QR code on-screen!
Find resources, meetings & colleagues
A powerful search feature lets you locate meeting rooms by name, meeting title, organiser name. You can also find desks by ID and occupant, making it ideal for connecting with co-workers.
WAYFINDERS
Streamline your reception services
Typically used in read-only mode, simple listings are ideal for busy reception areas and can include meeting room name, status and way-finding arrows.
Locate in receptions, lift lobbies, etc
Use our dedicated display screen or your own large-format TV
Display simple lists
Include way-finding arrows
Auto-rotate through listings
Use on dedicated screen or add as a menu option to interactive kiosk
Display real-time messages for visitors & health & safety messages.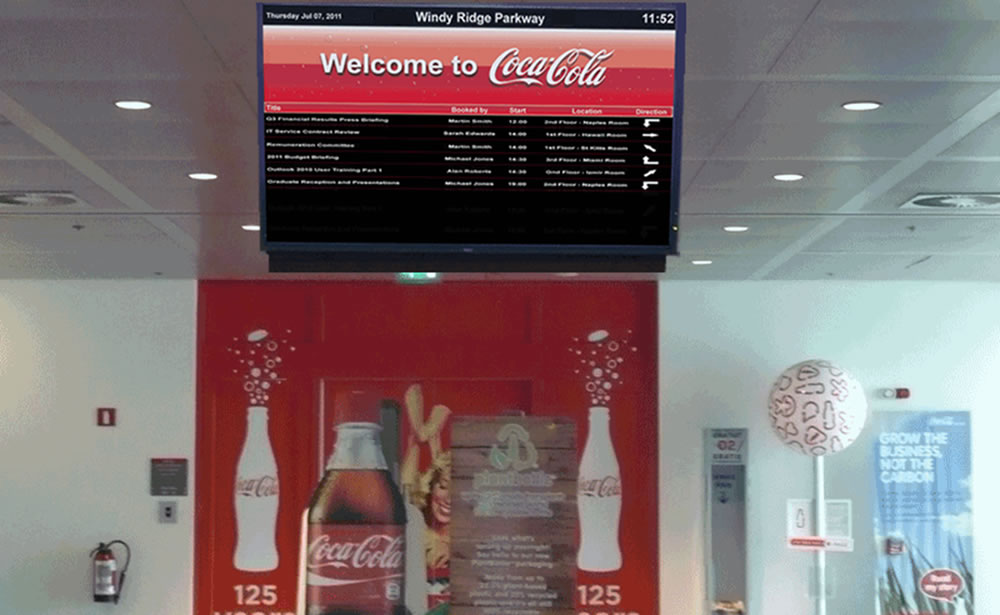 Find out how we can help you adopt & adapt the Microsoft modern workplace & cloud for your business